What Clients Say
Suzan Jenkins, Chief Executive Officer, A Local Arts Agency
I run a local arts agency in Montgomery County, Maryland. I came into the position in September of 2008, and 30 days after I started my job, we suffered the worst downturn since the Great Depression. And there I was, charged by the Board that just hired me with implementing a strategic plan which even in the best of settings would have been challenging. There were many political implications that I won't go into; I'll just say it was a difficult time and culminated in my being told by the Board I needed to seek an executive coach. I'd held leadership positions at national nonprofits – the Smithsonian, the Recording Industry Association of America – and had been challenged by the politically charged environment at the local level. But I was stunned when the Board told me to hire a professional coach! I'd known Sharon slightly from a chance meeting years before when she was still at the Nonprofit Finance Fund. So when my husband and I ran into her at an event and she mentioned that she's an executive coach, all of a sudden it was like birds started singing! The first time I spoke with her, I realized … all this time I was thinking that professional coaching would be a burden, but, once we met for our initial interview, the way she described it sounded like it could be a gift. And that's exactly what it was. Sharon was able to help me know that despite whatever misgivings I might have, or despite pushback that I might get from the field, I had the skills to do what needed to be done. She constantly reminded me that I have what it takes to lead. She helped me remind myself that no one gave me this position, I earned it, I am the right person to do this job, and I have what it takes to get it done. Sharon was always 100% present when we had a session. I never felt as though she was distracted by anything, I never felt as though she was rushing me through anything, and I always felt that she had my complete interest at heart. A good coach is better than a husband or a best friend. A husband doesn't wants you to be unhappy, and your best friend will do anything and say anything to help. But a personal coach aims higher than your emotional state. Sharon was brutally honest when I needed it, and guided me to focus on leveraging my strengths instead of worrying about weaknesses. It's the best investment in your professional career you could ever make. Even if you've been to grad school, gotten a PhD, done postgraduate work, even if you're the highest intellect on the planet, situations arise professionally, and you want to be able to have a confidential conversation with someone who has your best interest at heart, someone who only benefits if you benefit. Sharon is an adept executive coach. If you're looking someone with the ability to help you find excellence in your professional career, call Sharon. She exudes excellence. Working with Sharon has been the very best investment that I agreed to make in myself ever.
Ever.
Suzan Jenkins
Chief Executive Officer
A Local Arts Agency
Montgomery County, MD
Terrie S. Rouse, President, Rouse Consulting, Inc.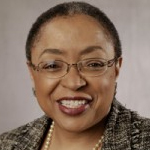 I was interested in executive coaching because my work was and is challenging. That doesn't mean you don't get something done, but it does mean digging deep to find the energy to get it done. Sharon has really learned the art of coaching, which is listening and probing and listening again, and then follow-up. She's good working with people like me who have strong personalities! We're driven people, and you have to find out what's eating at us. It's an art form, to be able to tip-toe into my life and listen and help. I've had coaches or people I've talked to over the years who, you know, either they're in awe, and that does not help you one bit, or they think, what the hell are you doing? Well, you're doing what you're doing! And Sharon doesn't pass judgment – I never get the feeling that she's asking, "Why are you doing this?" And that's important, that she's accepting of me – that's high on my list. Sharon doesn't just follow a textbook, she evaluates what you need. She can see what you need, what's good for you, what's going to be helpful to you. I look forward to talking with her. The conversation doesn't feel like work, but it really is work, meaning personal work, emotional work. That's good. There's ease and comfort, and that's what I like about working with her. And it really helps that Sharon knows about the culture/government/art world, from the business side and from the consumer side, so I didn't have to explain those things. You need that unbiased voice. And Sharon won't let you off the hook. She's not going to let you not do what you have to do, avoid grappling with your issues, not face up to something. She's going to listen to you, and she's going to help you shake that view or take that step, without making you feel like you're a bad person. And to me, that's what trust is all about. Terrie S. Rouse
President
Rouse Consulting, Inc.
Washington, D. C. Metro Area
www.terrierouse.com
A Senior Executive of For-profit and Nonprofit Institutions
I was looking at either changing careers or having some new direction within the organization. I hadn't framed how I wanted to do that or what I might want to do going forward, but I told Sharon that I thought it might be helpful to talk through my alternatives with someone who could offer advice and direction and could begin to help me put some form around what I imagined to be future opportunities. For the most part over my career span, which has extended some four decades, I set my career objectives myself. I don't typically share with anyone what my deep innermost thoughts are, particularly as it relates to my career, and never have. Executive coaching certainly didn't fit with the sort of things I had grown up with developmentally as a corporate person. So I had some reluctance about opening up about career direction. But I realized in looking back that I had run into some hurdles along the way, some of which had to do with maybe misreading the person on the other side of the table. I had some early discussion with Sharon about what I thought were some past confrontational circumstances that were aggravated and escalated by virtue of my believing the other person had taken an adversarial position. She was very helpful in making certain that I didn't go there in my current circumstance. Sharon and I would talk through things that I had felt or that I was seeing, and then we would talk through whether they were actually happening – was there something confrontational taking place – and if so, how might I best deal with it. These were all the sorts of things I generally never talk about. The way I was brought up in the for-profit finance world, sharing this sort of thing was viewed as a potential weakness, and it enabled somebody who was seeking the same thing you were to gain a competitive advantage. So for me there was lots of unlearning certain kinds of behavior, opinions, reactions, and then re-learning a different approach. My life in the nonprofit sector in finance is very different from what my life had been in large for-profit corporations. Sharon comes from the nonprofit sector, so I learned a lot from her. I find it very helpful to share with her the path I'm taking and what I see 12 months out, and various ways to accomplish that while building relationships. This has allowed me to craft a direction that otherwise might have taken a very different kind of detour. Working with Sharon has helped me to trust people more often and at a different level. And I clearly have a better work-life balance. There are certain burdens I just feel I don't carry any more – I can kind of unleash and let go. Because I don't let it all get to me, I'm having more fun! I'm enjoying this time again. That's meaningful. Because literally, I'm enjoying my time here again, and I did not think that was possible. I give Sharon great credit for that. I can pretty much talk to Sharon about anything. She listens well. And her feedback is good. It isn't exactly advice, because we come to a lot of conclusions together, and I like that. Be prepared for the frankness. It's tough having someone tell you about yourself! But in the end, it will make you a lot happier. And I would equate that with fun. I would say, if you aren't having fun, you'll learn to have fun again. A Senior Executive of For-profit and Nonprofit Institutions Northeast United States
Former Director, Strategic Financial Analysis, New York City Department of Health, New York, NY
I knew I was ready for a career transition, but I wasn't sure what I needed. I wanted to figure out how to move forward in such a way that my next position would be a leadership position that I could grow in. I wanted a position where 10 years from now, I can look back and feel that I'm a subject matter expert. The mechanics of the job search was not what I was looking for – I didn't want to review my resume and cover letter and go through mock interviews. But I felt in my gut that I needed some type of help, even though I couldn't articulate what that help would be. I turned to Sharon to help me think through the changes I was embarking on. And our engagement was awesome, it was wonderful! Sharon helped me to hone in on my skills and identify my strengths. You know, a lot of times we focus on our weaknesses, what we need to be better at. Sharon did a phenomenal job of helping me figure out what my strengths are, and what types of work would really allow me to leverage my strengths so that I can feel successful. Sharon would open every conversation with, "So what do you want to get out of this session?" She would always remind me that it's what I wanted and needed. I had to start becoming more prepared for my discussion with her. She trained me to be my own diagnostician, so that when the engagement ended, I was empowered with the tools I needed to ask the right questions. She sent me a book that was particularly helpful called StrengthsFinder. I did the online survey that comes with the book, and the report I received was so personalized – it really just hit the nail on the head. It's a document that I can have forever, that I can always reference, and I can even take the survey again when I've grown and matured more as a professional. So I have this gremlin that's always nudging me about my communication skills. And Sharon really helped me to recognize the gremlin and get control of it, and recognize that my communication skills are much stronger than I thought. Now instead of feeling like my communication skills are weak, I'm walking in knowing that I'm a wonderful communicator, it's probably my strongest asset, and it's what's going to help me to achieve success in my career. That was an absolute turnaround. And I'm starting a new position on Monday that I'm totally excited about! I'm confident that this is the right position for me. I can see it very clearly, I can see the big picture, I can see how I can leverage this position later on. I've never felt this level of freedom professionally. I've always felt like I was at the mercy of my manager. I feel like a true leader, not just of my work, but of myself. I'm still a humble person, because that's part of my personality. But professionally, I'm no longer waiting to get direction or waiting to be empowered. Here I am, I know what I'm worth, I know what my strengths are, I know what I'm capable of, I'm taking the lead. I know what I need to do. You can have a conversation with yourself for a whole year and not get anywhere. Why waste time sitting there going around in circles talking to yourself, trying to figure things out, not being sure, when you can have that conversation with someone whose prime objective is to help you think? You cut your time down and focus your energy in a more positive way by investing in a career coach. Because it is an investment. It's an investment in yourself. And you'll start seeing the results quickly – it's not the type of investment that you have to wait a long time to see the return! Former Director
Strategic Financial Analysis
New York City Department of Health, New York, NY
Margaret Egan, Administrator, Philanthropy Advisors, LLC
Before seeing Sharon I was trying to figure out whether I was going to look for a full-time position after consulting for so many years. So I said to Sharon, "If you'd like to really work with a live wire, let's see what we can do together!" I thought it was going to be strictly career coaching, as in helping me secure a job. I had no idea it was going to evolve into a graceful approach to helping me examine issues around why I'm not getting hired after many interviews, looking at why I may actually not want to return to a full-time job, and identifying what may be getting in my way that I need to evaluate. Most importantly, we looked at how might I own certain unique energies and restructure them into assets. Working with Sharon has been grace-filled as well as supportive and a deep learning experience. Everything about her has been incredibly powerful and positive. There's graciousness about her – a real presence – and I am able to get closer to my own expansive spirit as a result. I admire her clear sense of structure. She formalized our relationship right at the start, putting in protocols that made asking questions very welcome and truly lessened any confusion. I've had experience with many different kinds of relationships as a consultant, and I have high regard for people who know how to put structure in place up front. She knows how to formalize and yet not make it burdensome, and I respect that greatly. I tend to be one big manifestation of tangents, and it's a challenge to keep me on topic. Give me an opportunity to go off, and I will. I think of my archetype as the Tasmanian Devil, that cartoon character that spins about, and Sharon reminded me that that's not a bad energy to harness. Now, a harnessed Tasmanian Devil could be a very interesting kind of energy. She's helped me understand that energy. She says, "Margaret, what can you do to see the better side of that image, not just necessarily the destructive side of it?" Her tactic has been, let's flip it, let's see about making a positive out of what I can easily paint black. I've had many opportunities in terms of interviews, and I've also had several contracts as well. Some of them have gone very well, and some of them have been difficult. And that's up to me – when I'm not relaxing, that's when things are difficult. She reminds me to relax, and these things will come. And she always asks me, "What can you do to take care of yourself around this?" She's helping me shift my innate sense of relating to people and to find more patience for myself. My three mantras from working with her are: be present and listen, breathe and don't get ahead of yourself. Sharon brings me back to why I like my work and reminds me to go into situations with the intention of being of service. That kind of energy leads me to be my better self as a professional with whom people I want to share time. Margaret Egan
Administrator
Philanthropy Advisors, LLC
New York City
www.eganconsulting.com